Bents Green School records Food Aid with LadBaby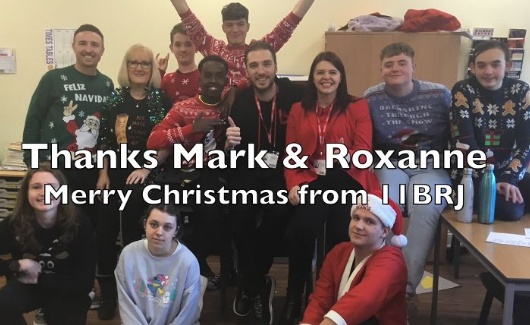 On Friday 9 December Bents Green School welcomed LadBaby to the school.
Brad Jones, Form Tutor for 11BRJ contacted LadBaby to ask if they could give his form group any words of advice about making No.1 Christmas hits as the group always record their own version of the LadBaby songs for the school Christmas Concert. Brad, the class and the school were totally amazed when Mark and Roxanne replied and asked if they could actually visit the school and see the students to offer their support and encouragement.
The day was a fantastic mix of excitement and recording. 11BRJ spent time with Mark and Roxanne prior to them recording the final scenes for their school production. There were lots of selfies, laughs and sausage rolls. Prior to them arriving and the biggest secret the school has ever had to keep, LadBaby asked if any of the Bents Green School students and staff would like to record their own version of the Food Aid Christmas single 'Do they Know it's Christmas' with LadBaby.
It was a huge honour and our students were amazing, they sang along and were swept up in the euphoria of creating something wonderful to support many families this Christmas. All proceeds for the sale and streaming of the single will go to The Trussell Trust.
We hope you enjoy the recording as much as the students and staff did.
Any enquiries regarding this story should be directed to headteacher@bentsgreen.sheffield.sch.uk