Careers information
Please see below details of current career opportunities and companies we work with when we hold our World Of Work weeks.
National Careers week 2021
Please see below the official guide to this years virtual Careers Week
If you would like to register for the Sheffield College Virtual Careers Fair either use the information sheet at the bottom of this page or click here.
Progression pathways for SEND students in Sheffield
Padlet is a new initiative which aims to support SEND pathways into employment.
NHS Supported Internships

These are for 16-24 year olds with disabilities, learning disabilities, difficulties and/or Autism.
The programme is delivered within NHS organisations and supported by Health Education
England.
There are many different apprenticeships available in the local area. Amazing Aprenticeships is a great way to view those on offer.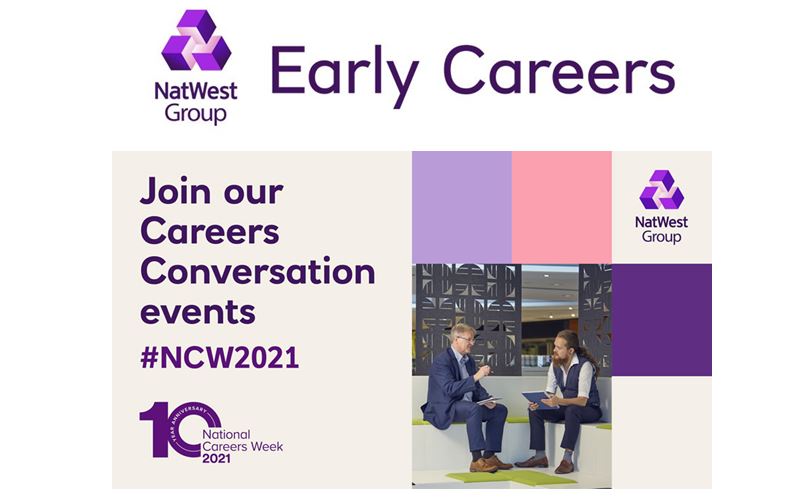 Natwest Careers Conversations
Research shows many parents, caregivers and teachers don't feel they have enough information about school-leaver opportunities to support students to make career decisions.

COVID-19's hugely changed the job market, and 16 – 24 year olds know it. Now, more than ever, young people are open to going for jobs they wouldn't have thought about before; making it our role to encourage them at every step.

Come and join us for our Careers Conversations for teachers to hear from our graduates, apprentices and recruiters as they lift the lid on their experiences; giving you the insights you need to start the careers conversation yourselves.
Careers Conversation for parents/caregivers
Tuesday 23 February 6pm
https://bit.ly/36D8aaS

Careers Conversation for parents/caregivers
Tuesday 2 March 4pm
https://bit.ly/2Laugd6