Covid-19
Staff and students of secondary age and above in SEND settings, alternative provision settings, and SEND units within mainstream settings or equivalent in further education colleges are advised to continue twice-weekly testing.
From Thursday 24 February, the Government will remove the legal requirement to self-isolate following a positive test. Adults and children who test positive will continue to be advised to stay at home and avoid contact with other people for at least 5 full days, and then continue to follow the guidance until they have received 2 negative test results on consecutive days. In addition, the Government will:
No longer ask fully vaccinated close contacts and those aged under 18 to test daily for 7 days, and remove the legal requirement for close contacts who are not fully vaccinated to self-isolate.
End self-isolation support payments, national funding for practical support and the medicine delivery service will no longer be available.
End routine contact tracing. Contacts will no longer be required to self-isolate or advised to take daily tests. Staff, children and young people should attend their education settings as usual. This includes staff who have been in close contact within their household, unless they are able to work from home.
End the legal obligation for individuals to tell their employers when they are required to self-isolate.
More detail can be found in the Living with COVID-19 plan published today.
Is my child too ill for school
If you are worried that your child might be too ill to come to school, please use this link to help
https://www.nhs.uk/live-well/healthy-body/is-my-child-too-ill-for-school/?fbclid=IwAR3_vaOH5A-cdl4soaZTY24DLh1le8Trig6jYvTrN5r0IR3YsADv2tLiIRU
Further sources of information for Mental Health
Most families have experienced upheaval in their daily lives during the pandemic. With children and young people now back at school or college, the new Public Health England (PHE) Better Health – Every Mind Matters campaign provides NHS-endorsed tips and advice to help children and young people's mental wellbeing, and equip parents and carers with the knowledge to support them.
The new advice available on the Every Mind Matters website has been developed in partnership with leading children and young people's mental health charities, including Young Minds, The Mix, Place2Be and The Anna Freud Centre. It is designed to help parents and carers spot the signs that children may be struggling with their mental health and support them, and also provides advice that can help maintain good mental wellbeing. The site also provides tools to help young people build resilience and equips them to look after their mental wellbeing.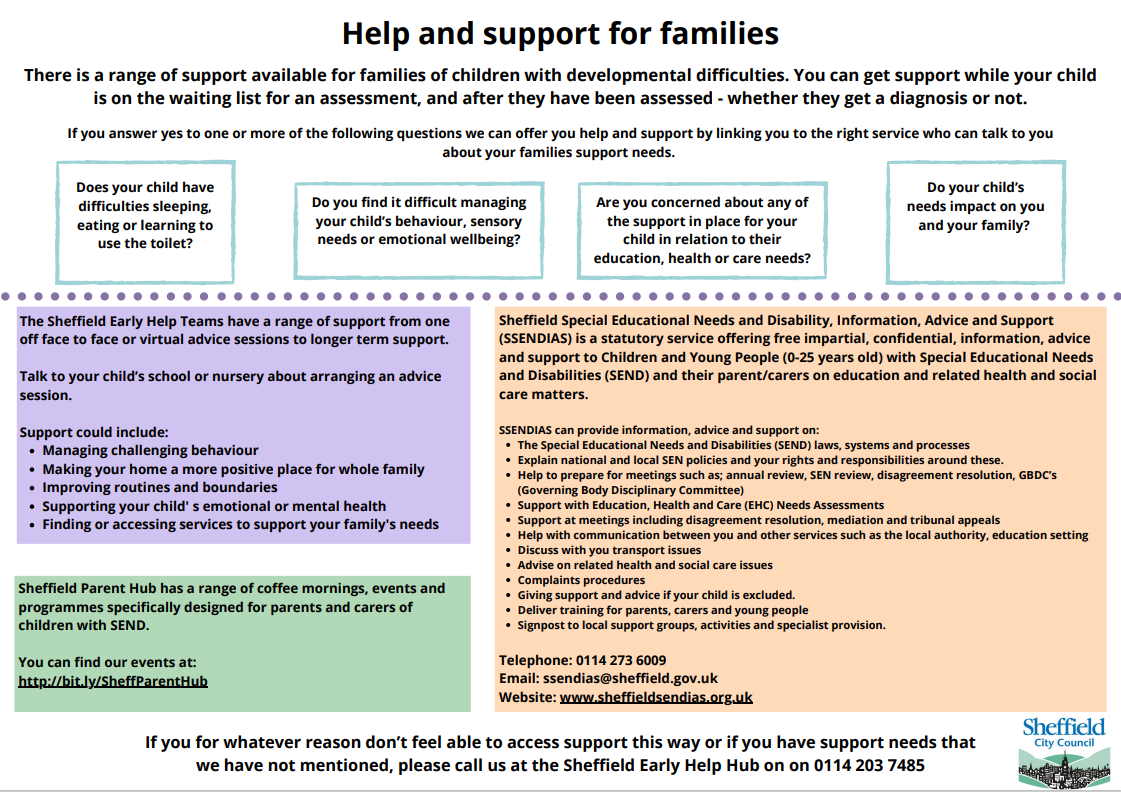 Social Stories
Sheffield's Children's Hospital has produced resources for children, young people and families. These include social stories about going back to school, social bubbles at school and hand washing: https://www.sheffieldchildrens.nhs.uk/patients-and-parents/coronavirus-resources-for-children-and-families/
The Speech and Language therapy service has also produced short videos to help families help their children talk. These are on You Tube and also promoted by the Parent Carer Forum's Facebook page:
Episode Two - Syllable clapping
Episode Four - Digging for Treasure
Support for emotional wellbeing
/_site/data/files/images/covid/EC45EA6DC809988CB84E02A14DE785A2.PNG