Online safety
We will put up to date links and information on this page which reflect the ever-changing information about staying safe online.
For up to date information please see this new Back to School online safety guide for September 2021
How to set up parental controls for apps on Android phones and iPhones
Downloading a new app or game is so quick and straightforward that, whenever a young person uses a smartphone (either their own or a parent's) there's always the possibility that they could expose themselves to inappropriate content (such as games with violent scenes or apps with adult themes) simply by sheer accident or, more likely, through youthful curiosity. Click on the poster below to go to the guides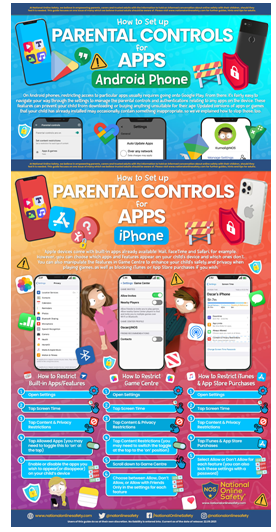 Fortunately, the parental controls you'll find on most smartphones are an excellent way of minimising this possibility. They don't completely remove the element of risk – but they do limit it considerably. Our guides will steer you through the process of setting up this useful protection on iPhone and Android smartphones.
We want to draw your attention to free parents courses available from National Online Safety, these should provide you with plenty of help in supporting positive conversations and keeping your child safe online.
Starting a conversation about online safety
It can be hard to know the best way to start a conversation with your child about what they're doing online. The best advice is to try to start talking about it regularly, making it a normal everyday topic of conversation. This will also mean they are more likely to come and talk to you if they need help or guidance.
Some ideas of how to start conversations:
Ask your child to show you what they enjoy doing online, or games/apps they're currently playing
Talk about sites or games you enjoy, or ones you don't enjoy and why
Discuss things that may make them worried, and let them know they can come to you to talk
Ask them about their friends online and how they know they are who they say they are
Discuss with your child what they think is ok for young people of different ages to do, so they feel involved in the decision making
Discuss digital footprints, and what they say about people
Ask them what they trust online
Ask them if they know how to report bad things, or how to block people
Please remember if you have any online safety concerns you can discuss these with your tutor team, or any of the designated Safeguarding leads in school.
Further support and E-safety Guides